Canine University reviews:
"The trainers were very helpful and informative in reinforcing teaching to be done at home. They were very friendly and Jasmine loved them! We were given just the right amount of homework, and loved that Katie and Kera demonstrated first. They were very communicative with us and individualized the training to our puppy. We were extremely satisfied" – Anonymous, 10/5/16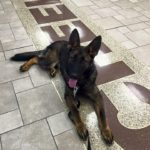 "The training seemed to be individualized to the dog's abilities and previous learning. Katie was wonderful with Bella. Extremely satisfied." -John E. and Bella (German Shepherd Dog), 9/1/16
"We had such a great experience with the Canine University! The trainers were extremely helpful and we noticed big improvement in our 1-year old dog's behavior. We would definitely recommend this program to others.
"All of the counselors we worked with were really great. You can tell they really care about your dog's training and do a wonderful job. They were flexible and tailored the training to my dog. I felt very comfortable leaving my dog in their care.
"Homework handouts were very helpful. I really enjoyed the recaps of each day and the pictures that were sent throughout the program. I could see my dog's improvement with the homework. It was a great way to transition what he learned during the day to our home.
"We really loved the whole program. Training was tailored to my dog and his strengths and weaknesses. The trainers were attentive and provided helpful feedback. We saw a huge improvement in our dog's behavior!" -Anonymous, 9/1/16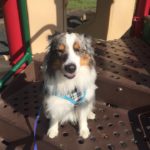 "Everything was great! Friendly staff, they treated Lupin well, he had a ton of fun and came home smarter and better behaved every day. We will be back. I've already blabbed about how great the program is to other people. You did everything well. Katie and Kera were awesome and Lou absolutely adored them! I think he's been a little depressed since classes ended because he hasn't seen them every day…" -Melisa F. and Lupin (Australian Shepherd), 9/14/16
"My puppy was not very well behaved when we started. She was impossible to recall or get her to sit and wait at doors to the outside. When the 4 weeks were up, she was much improved.It helped to build her confidence in other dogs,people and new situations. I enjoyed being able to sign her up for additional drop-in sessions.
"The handouts and homework were good. My dog loved all of the trainers.Thought I have to say she seemed to be most excited when Kera was there. Though all trainers lavished love and kindness on her equally. I think everything was done very well during the 4 weeks – there was enough playtime with other dogs (and with the trainers) along with learning and exploration times. Consideration was given to allow shy/timid dogs time to get used to the new environment and potential playmates.
"It was a very fun experience, for both my dog and I. I felt comfortable dropping her off each day,knowing she would be well taken care of and entertained and taught throughout the day." – Anonymous, 6/16/17
"My dog is well behaved. He loved school!" -Jill F. and Maxwell (Australian Shepherd), 7/11/17
"I love how positive the trainers are with my dog and myself. The philosophy is just what I was looking for in dog training. I appreciate how much the trainers cared for Casey. He LOVED all of the trainers." – Judy H and Casey (Morkie), 11/27/17
Puppy Head Start reviews:
"You did a great job teaching me how to continue the work you were doing at camp! I liked all of the trainers. Katie was especially good at explaining the homework." -Anonymous, 9/13/16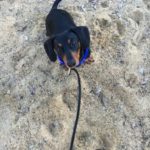 "You gave me the tools and education to continue to work on training at home. It was great to see my dog out in the community interacting with other people and dogs. Everyone was great and really seemed to care about my dog. I thought the program was really good, my dog really enjoyed coming to class every day, he was exhausted by the end of the day. We learned a lot." – Leanne B. and Tucker (Dachshund), 10/6/16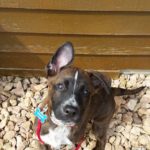 "Kera gave excellent recommendations and is very invested in our puppy, Riley. Very organized, informative, caring, kind, supportive environment… Lots of useful tips, videos, handouts. Kera was excellent!" – Nancy C. and Riley (mixed breed), 4/14/17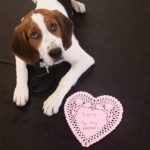 "You went above and beyond! How fortunate we are that you exist! I really appreciated all that the trainers kindly offered to both me and Earl. You had very thorough handouts and instruction from trainers. It was fun and Earl was ready to work!
"I want to specifically recognize Kera – you were steady, knowledgeable, encouraging, and wonderful daily support of rewarding canine human relationships. I miss going to Camp." – Ann B. and her foster puppy, Earle (Hound), 2/17/17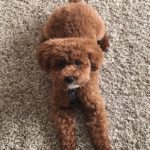 "Great program, great instructor! My dog enjoyed it there!!! He felt very loved! The handouts were very helpful. Lots of good information and detail. Kera loved our dog and made him happy and excited to come o training. Kera communicated effectively with our family about his progress." -Kathleen M. and Flynn (Poodle), 2/17/17
Puppy Junior High reviews:
"We love the positive approach! You were positive toward my puppy and myself. Very knowledgeable and helpful! I appreciated the pictures and videos of my dog on Facebook. I always enjoyed the daily journal, conference and handouts! I am impressed with everything about Paws Abilities!
"To recognize specific trainers, Kera was wonderful! My puppy loves her! I also enjoyed Katie. She gave me great ideas that were simple and they worked!" -Judy H. and Casey (Morkie), 7/11/17