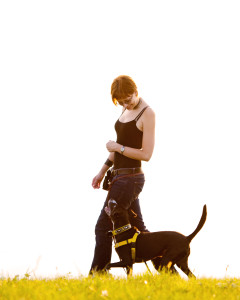 Paws Abilities Dog Training was founded in 1999 and was the first training company to bring clicker training techniques to the southeast Minnesota area. We believe in helping people enjoy their dogs through training and behavior modification, with an emphasis on scientifically valid and proven techniques. Our trainers keep up-to-date on the latest research and are members of professional organizations such as the Association for Professional Dog Trainers.
We love both ends of the leash and are excited to work with the whole family to help you achieve the great family pet or competition dog you've always dreamed of! Our trainers utilize the most effective reward-based and motivational techniques available, and are current on the best adult learning trends to help you teach your dog.
Paws Abilities is a premier source for animal behavior information, and is referred to by veterinarians and veterinary behavior specialists on a regular basis. We also mentor new trainers through Animal Behavior College, Victoria Stilwell Academy, and the CATCH Dog Training program, and are excited to help those new to the field.
Our Core Values
Compassion
Integrity
Joyfulness
Community
Drive to Learn
Our LIMA Policy
Paws Abilities Dog Training subscribes to a LIMA (Least Intrusive, Minimally Aversive) approach for all of our learners, of all species.
This means that we will always choose the easiest, kindest, most effective and efficient teaching possible for any given situation.
For our human learners: this includes making sure that we fully understand your concerns, provide a safe space in which to ask questions and try new things, and support you throughout your pet's life.
We use kind words, with no shame or judgment.

We make warm connections with each learner.

We adjust our teaching style for each individual learner in order to help you achieve success.

We are a disability-friendly, LGBTQ+-friendly, BIPOC-friendly, and neurodivergent-friendly company.

We provide equity for all people in both our services and our messages.
For our animal learners: this includes making sure that we provide a safe space in which to display species-appropriate behavior, ensure that their needs are being met prior to beginning any training intervention, and strive to eliminate uncertainty by providing clear, effective, reward-based training.
We use gentle, motivational methods to encourage the behaviors we want to see more of.

We use interruption, redirection, and training of alternative behaviors to decrease unwanted behaviors.

We adjust our training for every pet based on his or her unique temperament and situation.

We work with all breeds and backgrounds, and take the time to understand each pet as an individual.
We follow the Humane Hierarchy in all training interventions, and always begin by addressing the individual's needs and environment before we move into Operant training procedures.
We do not use or promote tools or training methods that rely on shaming, fear, discomfort, or pain. We use the same kindness and reward-based teaching methods with our human learners as we extend to their pets.