"We had such a great experience with the Canine University! The trainers were extremely helpful and we noticed big improvements in our 1-year-old dog's behavior. We would definitely recommend this program to others. "
Let us do the legwork for you!
Paws Abilities Day Camp is a unique dog training and socialization program run by certified professional trainers. We love teaching dogs and people, and are proud to offer the only humane, science-based, positive Day Camp program in the southeast Minnesota area! We will teach your dog quickly and effectively. In fact, we use the same proven reward-based training methods utilized in zoos, aquariums, and service dog training programs all over the world.
Unlike traditional training "boot camps," where you may send your dog away for weeks or months, your dog will come home with you every night. You'll receive a personalized report card detailing your dog or puppy's activities from the day, and will have a chance to talk to your dog's trainer to receive daily updates and homework assignments to keep your dog's training on track. You'll learn as your dog learns, so that both of you can feel confident in your new communication!
Your dog or puppy will have a busy day and will come home tired (so you can enjoy a peaceful evening). Day Camp is broken up into three different activities: mental exercise (training time), physical exercise (which includes playtime with other dogs and people, walks, and field trips), and rest (quiet time in a crate or on a mat, including training to relax and settle after excitement). Each dog at Camp has their own customized training plan so that we can best accomplish your goals.
Unlike traditional dog daycares, we offer a structured socialization and training experience. Think of how much faster your dog will learn with a professional behind the wheel! We can "jump start" your training and get you and your dog on the fast-track to good behavior.
Here are some additional details about the program:
To qualify for day camp, your dog should be friendly with both people and other dogs and be comfortable in a crate. (Not quite there yet? Start with private training lessons to get your dog on track before enrolling in day camp!)
We have crates available, or you can bring your dog's own crate.
You will provide a mat or bed for your dog (so that we can teach them to "go to place"), and will bring your dog's breakfast with you every morning.
Dogs must be current on vaccinations, including rabies (for dogs over four months), distemper, parvovirus, adenovirus, and bordetella. Your dog or puppy must have a negative fecal examination before starting the day camp program.
Day camp spots are limited, as we only work with a small number of dogs at a time to ensure plenty of individual attention. First priority for spots will always go to current or returning students.
Drop off time: 7:30-9:00am
Pick up: 4:00-6:00pm (pick up times are scheduled during registration)
Location: 3155 Wellner Dr. NE, Rochester MN
Day camp runs Monday through Friday, excepting major holidays (there is no day camp on New Year's Day, Memorial Day, Independence Day, Labor Day, Thanksgiving, or Christmas). In the event of severe weather, camp will be closed when the Rochester Public School district closes schools.
Upcoming program start dates:
Check out our Facebook page for updates on our Campers.

December 11th –

2 spots left for Puppy Head Start or Puppy Junior High only

***NOTE: We will not be holding Day Camp in the first quarter of 2018 due to inadequate staffing. If you are interested in a similar program for your dog, please email us to discuss options!
Reserve your spot by emailing us or filling out your dog's personalized profile!
A 50% deposit is required to reserve your spot (we accept checks and PayPal), with the remaining 50% due on the first day of your dog's camp. Cancellations received at least two weeks in advance will receive a full refund.
Day Camp is a highly effective way to socialize and train your dog, but in order to maintain those good behaviors the owner must also be part of the process. We'll coach you as your dog learns so that you can be an active participant in your dog's training, (without having to do all of the hard work by yourself)!
"Everything was great! Friendly staff, they treated Lupin well, he had a ton of fun and came home smarter and better behaved every day."
We have three programs to choose from!
Puppy Head Start Program: for puppies under 16 weeks of age at the start of their program.
Two weeks of professional training and socialization, $600.00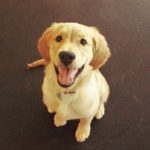 Start your puppy off with the best paw forward! Your puppy's action-packed Head Start program will include extensive socialization and handling. Positive handling ensures that your puppy loves the vet, behaves politely for the groomer (or for at-home grooming), and is easy to treat in the event of injuries or illness. No more nail trimming battles! You can have that happy, cooperative dog who makes the entire vet staff light up when you come in the door! Extensive professional socialization builds confidence and social skills in impressionable pups for a stable, balanced adult. Learn more about Puppy Head Start here >
Reserve your spot for Puppy Head Start >
Puppy Junior High Program: for puppies under 8 months of age at the start of their program.
Two weeks of professional training and socialization, $600.00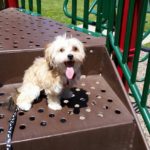 Puppy Junior High was specifically designed for older puppies who still need a bit more polishing up of their oh-so-important puppy skills before progressing to Canine University. This program still incorporates the great socialization and handling that you get in the Puppy Head Start program, while also introducing solid foundations for the manners and obedience skills that they will learn in Canine University.
Adolescence is a tough time for puppies AND their people! Your puppy's brains are still developing at this stage, and their bodies are undergoing lots of changes too. It can be hard for you to remember that your rapidly growing (or nearly full-grown) dog is still mentally a puppy. It's hard for your puppy too, as they need to adjust to your changing expectations and their changing body all at the same time. Many dogs at this age might still be working on the simpler things in life that come with being a puppy. Others need to go back to basics as their changing hormones play havoc with their previously well-learned obedience skills. With this customized program, they will be getting the best of both worlds and will be better equipped to continue on into the Canine University program. Learn more about Puppy Junior High here >
Reserve your spot for Puppy Junior High >
Canine University (Basic Obedience Program): for friendly dogs of any age who are already comfortable in a crate.
Four weeks of professional training and socialization: $1200.00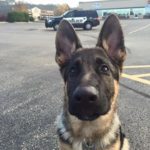 In this intensive learning program, we will teach your dog all of the manners he needs to be a polite member of society. If you want a dog who will walk nicely on leash, come whenever you call, stay where you tell him, wait politely at doors, and greet other people and dogs with impeccable manners – this is the program for you! Our professional trainers will teach your dog (and you!) the skills he needs to be a welcome guest at home and in public, as well as a joy to be around. Learn more about Canine University here >
Reserve your spot for Canine University >
The Double-Whammy: combine either the Puppy Head Start or the Puppy Junior High program with our Canine University Basic Obedience program, for a total of six weeks of professional training and socialization, for $1680.00 (a $120.00 savings).
Ready to enroll? Email us to reserve your dog's spot!
Hall of Fame
Check out our current campers below, or click here to see what past students have to say about their Day Camp experiences!